Earth Oracle - Messenger of the Star Elders - Sacred Site Guide - Essence Formulator - Egyptian Oils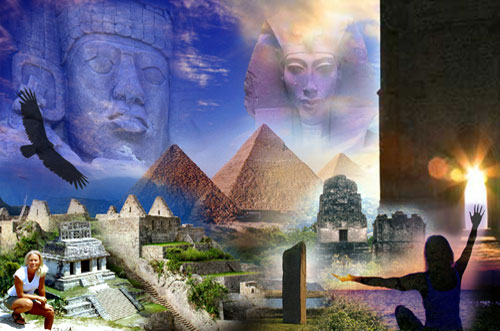 Positive support in changing times. Together we can create a better world!
RELAX, BREATH and COME ON IN ... It is going to be all right. You are just waking up!
Articles / Messages / Activations

Messages from Sacred Sites, Activations, Mayan Cosmology and Wisdom from Elders.

Spiritual Pilgrimages & Events

Offering life changing, intimate, heart centered Sacred Site Pilgrimages since 1995.

Sacred Site Essences

Powerful essences made in Earth's sacred sites that act like a Homeopathic inoculation of amazing places of Peace and Heart.

Egyptian Essential Oils

Pure and Powerful Egyptian Oils to assist with your Physical and Spiritual Chakras.

Star Elder Sessions

Aluna Joy offers sessions with assistance from her guides, to help you be free and clear from past programming and blocks that keep you from your divine purpose.

Aluna's Book Shelf

Aluna's favorite books and what she keeps on her book shelf.

Newsletter

You will receive the latest messages and articles, special offers on our products, and be the first to hear about our Pilgrimages and Events.

Aluna's Public Facebook Page

More frequent energy reports than our Newsletter provides with insights from our many readers.

ASSG - Ascension Symptoms Support Group

A Support Group on FaceBook with real conversations and insights from thousands of those feeling just like you. Read about how they are dealing with the challenges of these crazy times, and post what you are feeling today as well. You are not going crazy - you are waking up!

Our YouTube Channel

If you are feeling appreciation for our work, please consider sending us a heart donation. It sure helps these days.

Support us with a Heart Donation Here

If you shop on AMAZON . . . I am an Amazon Associate, so I earn a small percentage from qualifying purchases when you use our special link found here. It is a way to help pay for my private server that send these newsletters to you. Amazon also offers a huge platform for small business and are working to go carbon neutral. Yes it is a huge monster of a company. But it does support uncountable small business and help those of us who live in small remote towns who don't have shop to by even basic supplies. I can greatly reduce my fossil fuel use. So if you shop on Amazon use my link. It helps we a wee bit!

Go shop here!

The person who travels to a sacred site is not the same person when they return home. They have been awakened to a greater respect for the planet, accelerating a beautiful unity and harmony between all living people, cultures, and religions. The ancient one who created these sites help us remember that this is the most important truth there is.

- Aluna Joy Yaxkin

Events and Pilgrimages

Religion is the belief in someone else's experience. Spirituality is having your own experience.
Wisdom doesn't come from knowing anything, it comes from feeling everything.

These are the two most important reasons we offer Sacred Site Pilgrimages.
We are focused on you having your own PERSONAL EXPERIENCE. . .
To trigger your own UNIQUE AWAKENING,
to develop your ability to assess higher frequencies that are infused with ancient wisdom.
These energies can only be felt with the open heart.
This is what is waiting for you in the Sacred Sites of the Earth's, Ley Lines and Nodes.

If we listen with an open heart, we are also open to unique magical experiences.
These are life affirming moments that we are blessed with only once
and will never will revisit in the same way again.
There is no way to predict when magic will arrive in our lives,
but when it does . . it is simply MAGIC.
These are experiences that no one else will ever experience in the same way again.



PILGRIMAGE TO THE MAYAN WORLD

BOOKING NOW!

EQUINOX PILGRIMAGE in the HEART of the MAYA WORLD

Spring Equinox in the Magical MAYA LANDS of Mexico.

Palenque, Bonampak, Yaxchilan, Water Falls, Magic and Soul Healing

No other pilgrimage offers this much time in these sacred sites.

with Aluna Joy and Enrique Encalada.

March 16th-25th, 2024

We joyfully invite you to Come Home on this Heart-Centered Pilgrimage.

In Celebration of a New Cycle of Creation on the days where the SUN

is balanced between hemispheres and the veils are thinned.

Together, as ONE, we will Anchor LOVE into the

Plumed Serpent Ley Line that circumnavigates Mother Earth.

We will also have an opportunity to gather ancient and timeless wisdom,

receive downloads and gather soul fragments from an ancient life.

Now Open to Registrations!
READ ALL ABOUT THE MAYA PILGRIMAGE HERE

Ask to be put on our TRAVEL PRIORITY ALERT LIST
for this and all future pilgrimages as they come available.


PILGRIMAGE TO
ENGLAND and WALES
BOOKING NOW!




Pilgrimage the Lands of Myth and Magic

ENGLAND and WALES

A deep and timeless pilgrimage into the Myth and Magic of the land of Dragons

Evolving beyond the Myths with Aluna Joy and Marcus Mason.

ENGLAND and WALES - July, 9th to 24th, 2024 - Now Open for Registrations!

These are the lands that are steeped in Myth and Legend that are as old as Time itself. It is where Druids, Celts, Essenes, and Pilgrims alike walked lightly with Magical Power and Light. These are the lands of the resonant healing Preseli Blue Stone Hills, the location of the Original Stonehenge. These are the lands of the Red Dragon of Cadwaladr and Lion Heart of England. We seek to Remember the Truth behind the old stories the ancients shared near warm fires under starry skies. Join us as we set out on a pilgrimage to blur the lines between History, Myth and the Truth of Timeless Wisdom. As we will hear the echos of our ancestors, we Remember our Future and our Destiny. And to Remember we are the ANCIENTS RETURNED.

Read about our England / Wales Pilgrimage 2024


Ask to be put on our TRAVEL PRIORITY ALERT LIST
for this and all future pilgrimages as they come available.




PILGRIMAGE TO EGYPT

Registration will be open in the coming months

SACRED EGYPT PILGRIMAGE

October 2025

Cairo - Giza Pyramids - The King's Chamber - The Sphinx - Cairo Museum - Luxor Temple - Isis Temple at Philae - Karnak Temple - Aswan & Luxor Markets - The Valley of the Kings - Deir el Bahari (Hatshepsut Temple) - King Tut's Treasures - Dendara Temple - Edfu Temple - Kom Ombo Temple - Abu Simbel (optional). Our private yacht will SAIL with the wind, as they did thousands of years ago.

- 2 hours Private time in the King's Chamber in the Great Pyramid

- Private time at The Sphinx

- Private sunrise time at Philae's Isis Temple.

- A Luxurious, Private Yacht (Dahabeya) on The Nile

READ ALL ABOUT OUR PAST EGYPT 2023 PILGRIMAGE HERE

Ask to be put on our TRAVEL PRIORITY ALERT LIST
for this and all future pilgrimages as they come available.



SHARING messages and quotes as long as credit is given and done so freely, has ALWAYS BEEN ALLOWED!
COPYRIGHTS... ANY and ALL materials posted on www.AlunaJoy.com, on Facebook, or in Newsletters, is copyrighted by Aluna Joy Yaxk'in and www.AlunaJoy.com 1995-2023. Any unauthorized use and/or Duplication, Mirroring or Plagiarizing of any Written Material, Photography, Website Source Coding, Website Templates, Design and Forms, including the "Look" or "Feel", Sentiments, Focus, Insights, Concepts etc., without written permission from Aluna Joy Yaxk'in, is completely prohibited and is considered intellectual property theft. Any work that Aluna Joy Yaxk'in has paid an independent contractor for is also her legal property. Aluna Joy Yaxk'in does NOT give permission or will share Client Mailing Lists with anyone for any reason. Any part of Aluna Joy Yaxk'in's body of work and business model that is used for personal gain or self-promotion including, readings, sessions, teaching classes (exception - Aluna Joy Yaxk'in's Mayan Calendar information) or giving lectures using copyrighted content, without written permission from Aluna Joy Yaxk'in, is prohibited. Aluna Joy Yaxkin has NOT authorized or certified ANYONE to guide Spiritual Pilgrimages in the manner that she has honed and developed over decades of gathering and holding space for groups. Any use of any or all of Aluna Joy Yaxk'in's pilgrimage materials including the Pilgrimage Guidebook etc. without written permission from Aluna Joy Yaxk'in, is prohibited and is considered intellectual property theft, and theft of her business model. Any attempt to profit off the body of work which represents Aluna Joy Yaxk'in's heart and soul, is emphatically prohibited. It simply lacks integrity, creativity and authenticity.