ITINERARY
Anchoring the New Light Grids of the ONE . . . in Palenque, Yaxchillan, Bonampak, Agua Azul, Misol-Ha, Chicanna, Balamku, Calakmul, Xpujil, Becan, Kohunlich, Coba and the Caribbean Sea.
March 18 - 31, 2014
NOTE . . . We do not plan the spiritual aspects of a trip in advance, as we understand that Spirit moves in each moment . . . especially since 2012 has passed. But based on prior trip experiences, rest assured that there will be a lot of meditation time, teachings, channelings and ceremony . . . as Spirit guides us through-out the pilgrimage. We hope that this helps you to decide the adventure that is right for you. On a 3D level, this is where we will be each day:

B = Breakfast Included, D = Dinner Included, ON = Overnight

March 2014 . . .
Day 1. Tuesday, March 18th - Arrive in Villahermosa, Mexico. Airport transfers to our hotel. ON at Hotel Cencali. No Meals are included this day.

Day 2. Wednesday, March 19th - Enjoy a beautiful Yucatan breakfast. After group introductions and tearful reunions, we will pack up our bags and begin our journey through the Chiapas to Palenque. After checking in to our hotel, we will have a peaceful, afternoon introduction by passing through old Palenque with its sacred water falls. 7PM - Dinner. ON at Villas Kin-Ha. (BD) http://www.villaskinha.com/index.html

Day 3. EQUINOX, Thursday, March 20th - Enjoy a beautiful Yucatan breakfast. All day exploration and ceremony in PALENQUE with cooling, pool time before dinner. Dinner at the Villas Kin-Ha. ON at Villas Kin-Ha. (BD).

Day 4. Friday, March 21st - We will rise early and drive to the famous, jungle breakfast restaurant "Via Escondido". Then we travel on to Bonampak. Bonampak is an ascension mystery school where we learn how to weed out the illusions in life and discover our truth within our hearts. Dinner at the Villas Kin-Ha. ON at Villas Kin-Ha. (BD).

Day 5. Saturday, March 22nd - We will rise early and drive once again to the famous jungle breakfast restaurant "Via Escondido". Then we travel to the Guatemalan border where we board a boat to cruise up to the remote Earth site of Yaxchillan. Dinner at the Villas Kin-Ha. ON at Villas Kin-Ha. (BD).

Day 6. Sunday, March 23rd - Enjoy a beautiful Yucatan breakfast. Today, we have a day of integration and purification in the turquoise blue waters of AGUA AZUL. After AGUA AZUL, we will then visit MISOL-HA falls. This day will prepare us to go even deeper into the mysteries of Palenque on the following day. Dinner at the Villas Kin-Ha. ON at Villas Kin-Ha. (BD)

Day 7. Monday, March 24th - Enjoy a beautiful Yucatan breakfast. Today is YOUR DAY. Palenque speaks to us when we slow down. So this day you will have all day to connect, meditate, journal and just BE in the paradise of PALENQUE. If the group wants, we will hike to the lost temple. You can also visit the Palenque Museum . . . home of the Butterfly Man. We will have an evening integration meeting/meditation to share our experiences. Dinner at the Villas Kin-Ha. ON at Villas Kin-Ha. (BD).

Day 8. Tuesday, March 25th - Enjoy a leisurely Yucatan breakfast. We are in no hurry today. We want you to hang on to the deep peace that you have sunk into. :) After breakfast, we pack up, and leave the jungle of the Chiapas to travel to the state of Quintana Roo, and check into the Chicanna EcoVillage Resort. Dinner at the Chicanna EcoVillage Resort. ON at Chicanna EcoVillage Resort. (BD) http://www.chicannaecovillageresort.com/english/

Day 9. Wednesday, March 26th - After breakfast, we will visit the Mayan Sites of CHICANNA & BALAMKU. Dinner at the Chicanna EcoVillage Resort. ON at Chicanna EcoVillage Resort. (BD)

Day 10. Thursday, March 27th - After breakfast, we take smaller vans into the remote site of CALAKMUL that has the stele to the Divine Feminine. Dinner at the Chicanna EcoVillage Resort. ON at Chicanna EcoVillage Resort. (BD)

Day 11. Friday, March 28th - After breakfast, we visit XPUJIL & BECAN. Dinner at the Chicanna Ecovillage Resort. ON at Chicanna EcoVillage Resort. (BD)

Day 12. Saturday, March 29th - After breakfast, we pack up and transfer to the Caribbean area of Tulum. On the way, we will visit Kohunlich with its famous masks. Dinner at Los Lirios Hotel Cabanas. ON at Los Lirios Hotel Cabanas. (BD) http://www.loslirioshotel.com/

(BOOK THIS PILGRIME EARLY . . . Caribbean Beach Rooms are at a premium this time of year. We have blocked, 8 ocean front on upper level; 8 ocean front on ground level; 2 garden view on upper level, and 2 garden view at ground level. Ocean view rooms will be booked based on a first come, first serve basis.)

Day 13. Sunday, March 30th - After breakfast, we visit COBA. COBA has the tallest pyramid in the Yucatan and is jungle filled with butterflies. Group closing circle. Dinner at Los Lirios Hotel Cabanas. ON at Los Lirios Hotel Cabanas. (BD)

Day 14. Monday, March 31st - After breakfast, we will provide you with transfers to the Cancun airport.
(If you plan to stay longer on the Caribbean, we suggest that you make your reservations ASAP). (B)

TOUR PRICE INCLUDES: Beautiful, Safe, Eco-conscious and comfortable accommodations as listed in the itinerary. All airport transfers and transportation within tour dates will be covered unless otherwise stated (Remember . . . you will need to arrange your own arrival flights to Villahermosa, Mexico and your departure flights from Cancun, Mexico). Transportation in air-conditioned vehicles. All parking, road tolls, applicable taxes, and entrances fees to temple sites, museum and day tours mentioned in the itinerary. Meals, as specified in the above itinerary. Tips/Gratuities for bell-boys, waiters and chambermaids are included, but you might want to give a bit more. Purified water aboard busses traveling to sites. There will be two main spiritual guides at your service throughout the entire trip: Aluna Joy and Enrique. Aluna Joy will be providing Group Star Elder Sessions when Spirit calls her to do so. Enrique will be providing heart-felt ceremony. Raphael will be here for you as group guardian and logistical coordinator, and will also offer iindividual healings. Also included are laughs, joyful tears, and the beginning of lifelong friendships . . . just about everything a spirit could want! Plus, spiritual growth that cannot be measured by any standard! We guarantee that you will never be the same! (NOTE: Some of our plans are subject to slight changes due to Spirit's calling, great acts of Spirit, weather, etc...).

NOT INCLUDED: We do not include your arrival flight TO Villahermosa, Mexico or your departure flight FROM Cancun, Mexico. You will need to arrange and pay for your own arrival and departure flights. Local Airport Departure Taxes are not included. Lunches are not covered to give us a much time on site as possible. We strongly recommend bringing snacks so you can stay in the sites as long as possible. Flight insurance, health insurance and trip insurance are not included. Tips to our two amazing spiritual guides (Aluna Joy Yaxk'in & Enrique Encalada), other escort-guides (Raphael) and tips to our bus drivers are not included. They should be offered and accepted with the heart only. Drinking water when not in the busses, laundry bills . . . and all the beautiful things that you will want to take home with you are not included.
Prices
DOUBLE ROOM per person - $3,999.00
SINGLE ROOM - $4,999.00
Group size is limited to 26 ~ PLEASE REGISTER EARLY.
Last minute spontaneous registration may (or may not be) possible.
Before sending in your deposit or booking flights, please call us to see if we have space for you in the group.
If we are already booked, please ask to be placed on our alert list in the rare case of a cancellation.
A Complete Mayan Guide Book and other material will be sent to you 30 days prior to the Pilgrimage. More details and information is listed on the registration form.
Click here to register for this pilgrimage!

Related Articles . . .
THE BEGINNING HAS ARRIVED
Reflections on the Emergence of the Dove
The Maya Pilgrimage of 2012
Aluna Joy - January 24th, 2013
Posted on 1/24/2013
THE DECEMBER 21, 2012 MESSAGES
UNHINGING FROM THE OLD EARTH
Aluna Joy and the Star Elders
Yaxchillan, Mexico - 12/22/12 - Message #3
Posted on 3/28/2013
THE DECEMBER 21, 2012 MESSAGES
A NEW PARADIGM ACTIVATION
Aluna Joy, the Star Elders & Pakal Votan
Palenque, Mexico - 12/21/12 - Message #2
Posted on 3/8/2013
THE DECEMBER 21, 2012 MESSAGES AND ACTIVATIONS
GOODBYE TO AN OLD REALM
Aluna Joy and the Star Elders
Palenque, Mexico - The morning of 12/21/12 - Message #1
Posted on 2/12/2013
THE 33 YEAR PASSAGE OF THE LIVING MASTERS
Aluna Joy and The Star Elders - Dec 5th 2012
Posted on 12/5/2012
THE EVOLUTION OF MANIFESTING FORWARD
Aluna Joy, the Masters of Yaxchillan and the Star Elders - December 12, 2010
Posted Jan 2011
ABSORBED INTO THE COSMIC OCEAN OF GREAT POTENTIAL
Aluna Joy, the Masters of Yaxchillan and the Star Elders - December 12, 2010
Posted Jan 2011
MERGING WITH THE COSMIC MERKABA
Message from Palenque, Mexico
Aluna Joy Yaxk'in - December 9 & 10, 2010
Posted January 2011
ARE YOU READY TO TAKE THE COSMIC PLUNGE?
Message from Palenque, Mexico
Aluna Joy Yaxk'in - December 8 & 9, 2010
Posted January 2011
THE RAPTURE HAS BEGUN
The Return of the Ancestors
Message #4. Message receive in Palenque, Mexico with the Butterfly Man
Aluna Joy - March 24, 2010
Posted on July 4th, 2010
BONAMPAK ~ A BOOT CAMP FOR LIVING MASTERS
Message #3. A Star Elder message received in Bonampak, Mexico
Aluna Joy - March 22, 2010
Posted June 2010
PASSAGE TO A NEW WORLD
Message #2. A Star Elder message received in Palenque, Mexico at the Solar Wave 2010 Ceremony
Aluna Joy - March 20, 2010
Posted June 2010
FAKE IT 'TIL YOU MAKE IT
Message #1. A Star Elder message received in Palenque, Mexico at the Solar Wave 2010 Ceremony Aluna Joy - March 20, 2010
Posted June 2010
RECEIVING ASSISTANCE FROM THE STAR ELDERS AND PLEIADIANS
Aluna Joy in Palenque, Mexico - March 18, 2010
Posted May 2010
ACTIVATION OF THE BUTTERFLY HEART
Messages from the Star Elders
Aluna Joy in Copan, Honduras - March 2009
May 2009 #2
SPIRITUAL ARCHEOLOGY
A holistic approach to archeology.
WHAT IS A SACRED SITE?
How we learn in sacred sites. Why we are drawn to visit sacred sites.
GETTING THERE.... An Amazing PALENQUE Story
Jan 2003

Join Author, Mystic, and Spiritual Archeologist ALUNA JOY YAXK'IN and the STAR ELDERS, with our Heart Centered Mayan Spirit guide ENRIQUE ENCALADA, on a magical, spirit-filled, life changing Mayan adventure on ancient Maya Light Grids through the highlands of the Chiapas, to the Yucatan Peninsula, all the way to the Caribbean Sea. This pilgrimage will be filled with deep connections with loving Soul Family, Star Elder Messages from the Ancient Ancestors, Meditation and Ceremony . . . and unexpected MAGIC!


We have entered a new cycle of time . . . even though the outer world looks somewhat the same, everything inside us feels very different. This is an important time for us to REDISCOVER our NEW SELVES, REDISCOVER our JOY, BLISS, HEART and PEACE that is in alignment with our NEW PURPOSE. We are excited to open our hearts to receive evolved and new messages, and integrate the shifts that have occurred within us since 2012. We know that we have already crossed through the doorway. We are now asked to receive new seeds of love, harmony and paradise in areas all over the world in 2013 and 2014. This is our first pilgrimage to the Maya lands, since December 21, 2012, to contribute to the sites in this way. The Earth's new energy is arising, and we are twice-born children in this new field of manifestation. What we sense, feel, see and hear in these sites can and will change our lives profoundly. We are inviting you to join us in this new discovery!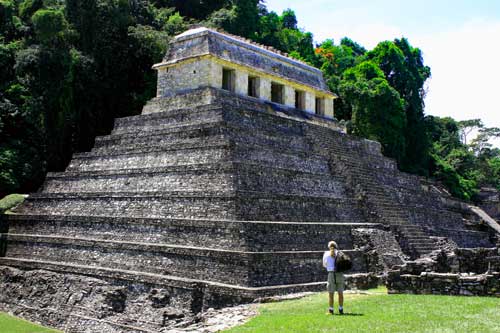 Ancient Memory and Soul Retrieval, Opening to the Sixth Sense and further . . .
PALENQUE - YAXCHILLAN - BOMAMPAK
Palenque is home to a great hall of records and a powerful Earth Merkaba that connects with a universal grid. It holds a living library of eternal wisdom to those who listen with an open heart. Palenque is built with advanced sacred geometry using the Golden Mean Spiral. It is considered to be an ancient mystery school for spiritual initiates. In the Keys of Enoch, Palenque is considered to be the head of a huge, geographical, dove grid anchoring a new definition of peace and wisdom. The locals call Palenque "The Navel of the Earth". Palenque is an activator for intuitive understanding and can accelerate our psychic abilities. We feel this will be the first area to fully anchor the new world energies.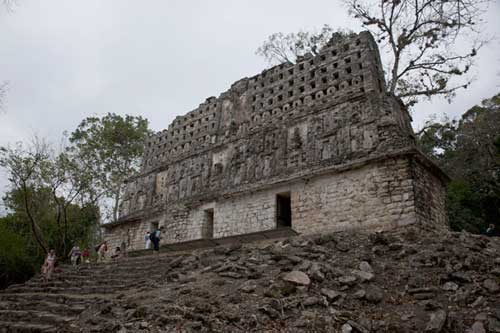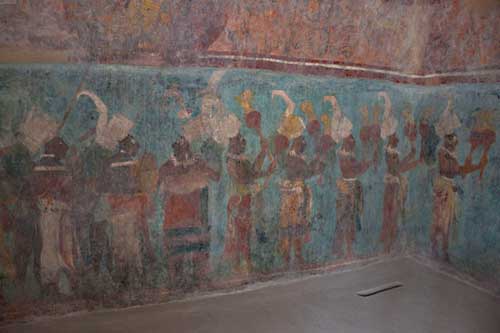 Photos thanks to and copyrighted by Daniel Maddux. See more at http://www.mayantempleenergies.com/


The area that encompasses Palenque, Yaxchillan & Bonampak is where the ancient starry ones lived Heaven on Earth. Pacal Votan's energy, a Cosmic Messenger, still radiates from the Temple of Inscriptions in Palenque. Many other Masters influence the energy of this area including the elder race we call the Star Elders or Invisible Council. Even Christ healed the sick and performed baptisms in the Queen's Falls when he visited during the "lost years". He learned from the Star Elders about cosmic time, and the Star Elders learned from him about the Heart and Peace. Their energy is still there, and so is their wisdom. Palenque is nothing less than pure magic and is still one of our favorite areas after traveling two decades in Central and South America. What we learn here will be taken forward, multiplied and matured in the other less traveled sites along this pilgrimage's path.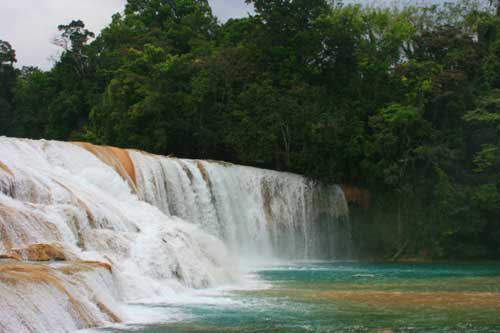 Rejuvenation and Soul Healing . . .
AGUA AZUL & MISOL-HA
At Agua Azul & Misol Ha, we take time to integrate and restore our weary souls. Misol Ha is home to powerful Grandfather Trees as well. The water at Agua Azul is magical and very healing as it is full of therapeutic minerals. You will feel like a new born child after a day in her healings waters.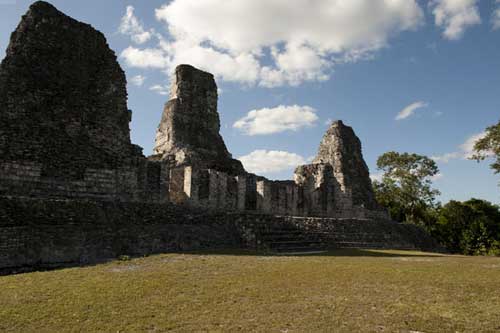 Photos thanks to and copyrighted by Daniel Maddux. See more at http://www.mayantempleenergies.com/


Re-connecting with our Star Family . . .
XPUJIL
Xpujil's (pronounced 'shpu-heel') temple-pyramids are characterized by the unique Mayan Río Bec style. The pyramids usually have huge, "so called" nonfunctional towers on each of the opposite ends. I feel they hold portals to the stars and are used to communciate with star family. As the height of the twin towers increases, the twin towers narrow giving the illusion of being greater in height than they actually are. In addition, the twin-towers appear to have stairs along their faces leading to the temple that rests atop them. However, the steps are only a design motif that creates the illusion of functional stairs. We feel these are temples built not for man, but for Star Elders and other Star families who would not need to climb stairs to reach the top. The temples, which appear to be located on the singular platform at the top each of the Río Bec towers, are solid masses of design stone, with no interior rooms; so they are inoperative for human beings as well. There are pseudo-doorways, built into niches, located at the fronts of the temples which give the temple the appearance of having a functional door. We see doorways like this in Peru as well, and they do function as dimensional doorways. For most of the archeology world, the purpose of the Río Bec's temple-pyramids is unknown. We need to look with different eyes.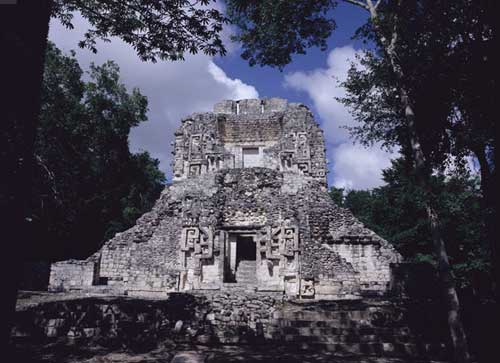 Photos thanks to and copyrighted by Daniel Maddux. See more at http://www.mayantempleenergies.com/


Activating the Kundalini . . .
CHICANNA
Chicanna was given its name because of its main structure. In Yucatec Maya, Chi = mouth, Can = serpent, and Na or Nah = house. This is why Chicanna is called the House of the Serpent Mouth. This site is an initiatory site for ascension and dimensional travel for humans and those of us who are in human form this time around. In the ascension process, we must awaken the kundalini, the serpent within. When we emerge from the serpent's mouth, we become twice-born, Living Masters, and enter another stage of life where we are awakened further, and our purpose has changed.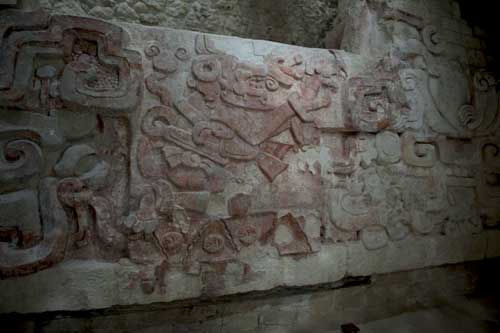 Photos thanks to and copyrighted by Daniel Maddux. See more at http://www.mayantempleenergies.com/


Bring Forth New Abundance Codes . . .
BALAMK'U
Balamk'u in Mayan means "Jaguar's Temple" (balam = jaguar, ku = temple). The local people call the site Chunhabil. This site has a temple called "Monster of the Earth" from which kings and queens emerge. Balamkú has carvings that are remarkable in their detail. It is one of the largest surviving stucco friezes in the Maya world. These three large stucco friezes consist of the rabbit (ABUNDANCE and FERTILITY), the alligator (SAFE PASSAGE BETWEEN DIMENSIONS) which assures transition between these two worlds, and the jaguar (AUTHENTIC POWER and WEALTH). The frieze represents the surface of the Earth with masks of the Monster of the Earth (Cauac), who is separating the underworld (kingdom of the dead), from the upper world (kingdom of the gods). From this surface, aquatic animals emerge (2 toads and 2 crocodiles) with their mouths open at 180°; this represents the Earth in its vegetative and fertile state. The Kings and Queens of the upper world (that is us!) are responsible for the abundance and wealth of its subjects. When we enter the mouth, located under the frieze, our entrance symbolizes the entrance to the Mayan underworld where the power and codes of creation are stored. When we emerge from the Serpent's mouth, we are reborn at a higher frequency that is more in alignment to the new Earth. This stucco frieze signifies the glorification of the kingdom, a demonstration of its Earthly origin and its abundant fertility of creation.



Photos thanks to and copyrighted by Daniel Maddux. See more at http://www.mayantempleenergies.com/


The Codes of Spherical Dimensions . . .
BECAN
Becan is built inside a rare moat that runs the entire circumference of the city. Looking at the Google satellite map, you can easily see the circled area that the moat and wall creates. Becan means "The Way of the Serpent" ("Be" means Camino or roadway; "Kan" means serpent), because of the moat's waters that twist in irregular size and shape. Becán also has detailed masks of the Itzamna God, also called the Earth Monster. An unusual feature, situated prominently in the main plaza, is a round pyramid dedicated to the God of Wind. This site teases us with false stairs, twists and turning pathways to teach us to let go and trust our non-linear instincts. Here we remember how to manifest in spherical dimensions.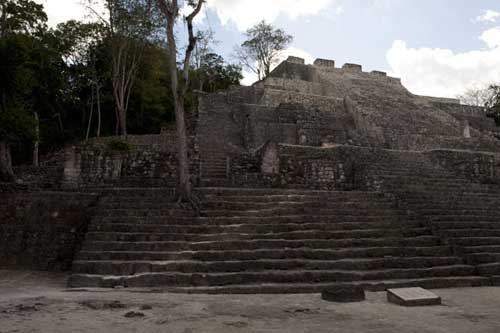 Photos thanks to and copyrighted by Daniel Maddux. See more at http://www.mayantempleenergies.com/


Finding a New Cosmic Balance . . .
CALAKMUL
Calakmul is so remote that very few have visited this site which is as large and grand as Tikal. Just recently, this site became open to small vans. This will be our first visit to this site. In Maya, Calakmul means "the City of the Two Opposing Pyramids" (CA means two, LAK means adjacent, and MUL signifies any artificial mound or pyramid). Calakmul was a major superpower in the region and has over 100 carved stelae with one prominent one in honor of the Divine Feminine or Mayan Goddess. It is this Goddess Stele that has attracted us here. We feel this site imparts balance in duality, and, now in 2013, may even be providing frequencies where we can rise above a dualistic world to unify any and all opposing energies.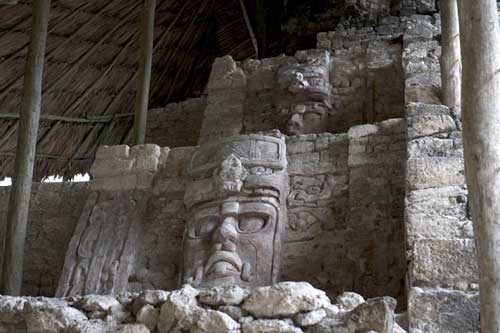 Photos thanks to and copyrighted by Daniel Maddux. See more at http://www.mayantempleenergies.com/


Reconnection to the New SUN . . .
Kohunlich
Kohunlich is noted for its magnificent stucco masks of the Sun God, Kinich Ahau. These masks make up the lower four panels of the Pyramid of the Masks, and are noted for being the most refined and sensitive deity portrayals in all of Meso America.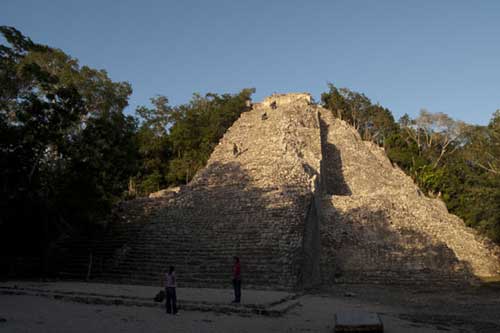 Photos thanks to and copyrighted by Daniel Maddux. See more at http://www.mayantempleenergies.com/


Owning our Starry Heritage . . .
COBA
Butterfly and bird filled Coba is beautiful and mysterious. Coba means "ruffled waters", derived from the five lakes in the vicinity. It is one of the oldest Mayan settlements on the peninsula. It also has the highest pyramid in the area and the greatest concentration of (40) Sacbe's (Roads of Light) . . . some of which are over 60 miles in length. Each sacbe was constructed with stones to a height of one to two meters and then covered with white mortar. Their purpose is puzzling to archeologists as this civilization had no wheeled transport and had yet to see the horse. These roads were built for religious processions and pilgrimage. It is an honor to walk a few of them. Etheric record of ancient procession and pilgrimages are still anchored here. Depictions of female Tikal royalty on several stelae are also found here. Nohoch Mul is the largest pyramid in the Yucatan. Nohoch Mul is a staggering 136 feet high (45 meters) and towers above the jungle. The steps are disintegrating in places, but climbing the pyramid is not too difficult. At the temple top, there is a carving of the descending god at the entrance. This site reminds us of our cosmic, starry ancestral past. We are all made of stars and have descended to Earth at this time of great transformation.




Meet Our Amazing Team of Guides . . .


ALUNA JOY'S gift is to create a sacred space within the group dynamic to help empower transformation, awakening, and self-realization. She will offer messages from the spirits of the Temples and the Star Elders through-out the trip as Spirit directs. ENRIQUE'S gift to the group is to bring his wonderful quality of heart centered wisdom, spirit and ceremony to the group. You will experience all this plus . . . BLISS, MAGIC, and as always . . . the Unexpected! We hope you feel the call to come join us on a pilgrimage of joyful exploration of the new energies anchoring on Earth. It would be an honor to have you be part of our growing travel family.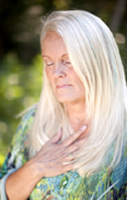 Aluna Joy Yaxk'in was literally born awake and in the company of her guides, the Star Elders. Today she has evolved into an internationally known author, spiritual life coach, sacred site guide, alternative historian, ordained minister and modern mystic. In the Inca world, Aluna is considered a Qawaq (cow-wak), a clairvoyant or seer of living energy. Aluna acts as a spiritual archaeologist using her clairvoyant / clairsentient gifts to excavate messages from the masters of ancient, enlightened cultures to uncover what affect this has on humanity and the collective consciousness. Aluna coined the term "sacred site junkie" because she is one herself. After her first trip to Tulum, Mexico, her life changed dramatically, and she was sent on an entirely different path in life. Since this time, her work has been influenced by uncountable shamanic experiences in sacred sites of Mexico, Guatemala, Belize, Honduras, Peru, Bolivia, Egypt, Greece, England, Australia and New Zealand. Aluna has been leading groups in the Maya world since 1986, the Inca world since 1996, and the Egyptian world since 2008. Aluna offers Star Elder Sessions, formulates Sacred Site Essences and a free newsletter. She is the author of "Mayan Astrology" and her articles have been published worldwide. She is well known for her down to earth, accepting attitude that makes each one feel like they have come home. She inspires and encourages others to recognize and accept their own authentic divinity and connection to the Creator. "Our groups are family, and each one is a teacher and also a student. We work together as a team to unravel the sacred mysteries of life."
Facebook: http://www.facebook.com/alunajoyyaxkin
YouTube: http://www.youtube.com/user/feelthelove2012
Read more about Aluna Joy here http://www.alunajoy.com/aluna.html
Read Aluna Joy's writings here http://www.alunajoy.com/articles.html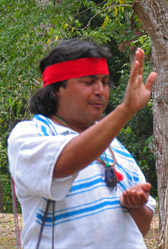 ENRIQUE ENCALADA - Enrique is a wonderful opened hearted blend of new age and Maya traditions. When Enrique had his first contact with the Sacred Knowledge at the age of 15, the revelation of these truths changed his life, and he began to follow a sacred path which has lead him in amazing directions. In 1984, he was the assistant to the Mayan Gnostic Congress Of Atlantis in Merida, Mexico. In 1995, he participated in the Great Meeting of the Mayan Solar Initiation. This meeting deepened his Sacred Studies. That same year he also fulfilled one of his life's purposes by going to Japan, where he found a lost part of his inner self. In Japan, he had his first contact with Buddhist and Shinto doctrines. After his return, he journeyed to Teotihuacan, Tlatelolco and the Maya lands to bridge the connections between the ancients of the Far East and those in Mesoamerica. In 1996, he received his first inspiration/vision to lead a meditation in Tulum. In January of 1998, he took part in the teachings of the 8 Verses of Mental Training given by Lama Geshe Tsultilm Gyeltsen. In September of 1998, under the sponsoring of Hunbatz Men and the Naga Ku Mysteries School in Japan, he was sent to Japan as an emissary to offer lectures about the Mayan Sacred Knowledge to Japan's New Age Community. There he discovered his Sacred Mayan name, Uc Akè Chan. In December of 1999/2000 during Y2K, Enrique participated in his first trip with Aluna Joy. Since then, he has had the honor to travel with her and her wonderful groups every Spring Equinox. "With honor to all my spiritual brothers and sisters, I hope to help you to open the doors / gates for all of you, in the magic places of the Maya. In Lak ech A la Kin."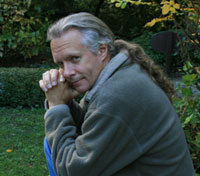 RAPHAEL - It is a blessing to have Raphael as our resident Angel . . . group guardian and energy healer. He is an egoless and humble light worker. He has been involved with energy work the majority of his life and has studied a variety of healing energy modalities including QiGong, Quantum Touch, and Kahuna Ancient Rainbow Conscious Healing (ARCH). His spiritual path has provided him with a deep humbleness and appreciation of all life and Mother Earth, as a direct result of his relationship with the Blackfeet, the Ojibwa and the Lakota Nations. Raphael feels it is a blessing for him to be able to serve our groups in any way he can. Raphael and his life partner, Aluna Joy, reside in Sedona, Arizona. Healings With Raphael